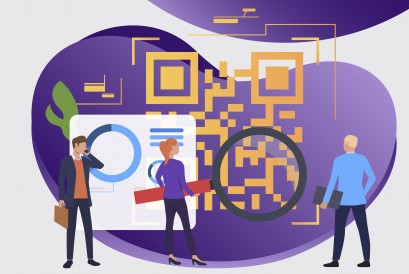 With the introduction of faster and smarter technology each year, most people are now using their phones for everything. In the 21st century, everything is accessible in a snap- one touch of a finger can make anything happen.

One of the trending channels of this era is cashless money- mobile banking, online transfer, and QR code have been the best in the nation. Though payment via QR code might sound complicated and not so feasible for small businesses, the truth is exactly the opposite. Let's learn how small business marketing can use QR business to their best.
What is the Quick Response (QR) code?
A Quick Response code is a two-dimensional code that is scanned by smartphone cameras to pull up text, photos, music, videos, and URLs automatically. QR codes can provide any information about the service/product, and the information gets into the user's device.
These mobile-friendly codes are connecting the offline space to online resources. These codes are already widely popular and are being used by marketers in billboards, web pages, magazines, and any other marketing material. While major businesses are already using QR codes for their campaigns, small businesses are yet to adopt the trend for their marketing. Here is how QR codes can be used for small business marketing.
Lead the customers to a landing page/ signup page of your website
 Make the system where the customer receives your business details including phone number when the code is scanned. 
 Sending a message through QR codes is a low-cost SMS marketing hack
 Sending an email via QR codes is actually a free marketing strategy. 
You can also view the business location or direct the customers to your social media pages
Use the QR codes for discounts and promos to improve the CTR of your business. 
What are the benefits of using QR codes?
To start with, QR codes are cheap marketing tools- it's cheap to set up and even cheaper to work with. Small marketing businesses can use it to collect the information of the possible customer and then track them down. Since the information of QR code goes through your system, the data can be further examined through your analytics. You can use the QR codes in business cards, marketing materials, storefront windows, or in freebies.
While QR card has tremendous possibilities, it's still a foreign concept to many people – especially in the third world country. Without a doubt, more and more people are starting to use the codes with action, but it's yet too early to assume that your customers will know exactly what to do. Taking about how to scan a QR code, and coming up with an easy customer direction manual is a good way to start with.
To Sum Up, 
In the end, QR codes have lots of benefits for small business marketing industries. Besides saving time and energy, QR codes are very cheap marketing tools that also provide data that you will mostly need. Used widely and wisely. QR codes can the next major change experienced by your business.