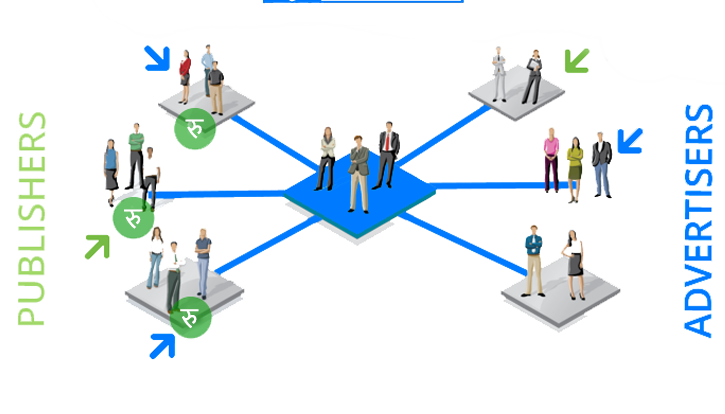 The ads that appear in the middle of our YouTube video or the ones on the website we visit are all the contributions of the digital ad network. In the digital world, banner ads and video ads are the market changer when placed in the right place. Both global ad networks such as AdSense and local ad networks like AdMana are doing a pretty amazing task in the world of online advertisement. Today, let's learn what is an Ad Network and how to use it.
What is an Ad Network?
An ad network (advertising network) connects advertisers with the website where they want to play the ads. First, they collect the aggregation of the ad supply from the publishers and then post it to the matching advertisers. An ad network is not just about banner ads on the blog website. It can be in the form of a slider image, GIF, video, or whatever is liked by the customers.

Online ad networks are similar to traditional advertisement companies except for the fact that the ad network completely uses a digital platform. Commercially, even digital ad networks facilitate payments and transactions. But it's the additional task such as ad tracking, and reporting that make ad networks the biggest need of the digital world.
Importance of Ad Network
Imagine every publisher (millions of website owners) arguing with advertisers to place every single ad on their page. Doesn't sounds so good, do it? Ad networks are essential for the monetization of the online platform. As technical and commercial intermediaries, they ensure the smooth flow between advertisers and publishers.
How to use an Ad Network?
The use of an Ad Network allows publishers to create an Ad to be placed on the website and website owners to place them.

For global platforms such as AdSense, visit their homepage and signup to run targeted advertising irrespective of your budget. Publishers need to provide the details of their website and get approval from AdSense before they place the ads.

While global ad platforms have been performing well, people are now switching towards a local ad network. Local ad network like AdMana is far efficient and effective for local publishers and advertisers. Advertisers can contact their Ad Network to design their ads, place them on the right website, trace, and report the progress. They are also cheaper than the global network. On another hand, publishers can simply make a contract with the local advertisement network and receive their payment on the basis of clicks or impressions.
To Sum up,
With the rising use of banner and video ads, both global and local Ad Network is growing like never before. As an intermediate, they are a cost-effective solution to both advertisers and publishers.
Any queries? Comment below