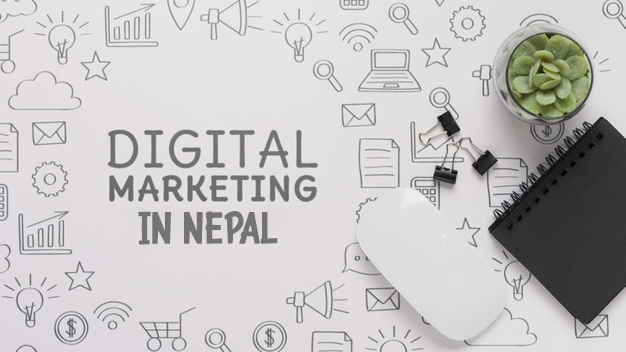 For today's world built out of technology and the internet, digital marketing is an obvious thing. Globally, Online Marketing has marked it's solid presence for more than a decade now. But, Digital Marketing in Nepal is just a newborn. But thanks to the advertising agency and their social media strategies, online advertising has made tremendous success in just a few years.
The revolutionary presence in the digital field has occurred as people have learned to harness the potential of the Internet and social media. Making deals with the right digital marketers is like designing a campaign that increases the sales of your brand in no time.
Digital marketing companies in Nepal have been growing after every passing day. Just a few years ago; there were only a handful of digital advertising agencies in Kathmandu. And now, they are all over Nepal, working for a bigger market. Not just the number, but their work field and strategies have also improved. A digital marketing company takes care of each and every digital marketing solution- be it content, designs, or social media strategy. The company has an expert team to develop a brand image from scratch. But people often confuse them with IT companies.
So there's some information to clarify your understanding with digital marketing.
What is Digital Marketing?
In simple words, it's a marketing process that operates digital devices and Internet access so that your product can compass over potential customers. They use online channels like email, social media, websites, Search Engine Optimization (SEO) etc.to connect with customers.
Why Digital Marketing in Nepal?
With the increasing number of Internet uses over time, the entire world is digitizing into a small village. Today, the Internet has grown bigger than ever and it will further grow in the coming future. Over 9,857, 000 people use Facebook in Nepal which is 32.6% of the entire population and over 1,300,800 people use Instagram (as per September 2018). And then there's Twitter, WhatsApp, email, and websites.
I don't see a better way to reach out to this huge population without digital marketing? Few of Nepal's leading daily newspaper has a readership of only 2.5 million above per day. This means you can reach 300% more people only through Facebook.
And unlike the major misconception, Digital Marketing is actually affordable even for small brands.
Digital Marketing Companies in Nepal
There are hundreds of digital marketing companies in Nepal, most of them clustered in Kathmandu. Here are the most common strategies adopted by them
Search Engine Optimization (SEO)
Search Engine Marketing (SEM)
Social Media Marketing
Email Marketing
Web Analytics
Each one of them promises you the best service and a bigger approach. But not all of them can grow your business as you expected it to. Unlike most of the digital marketing companies of Nepal, AdMana Technology Pvt. Ltd. actually boasts your brand, bringing you closer to the fortune.