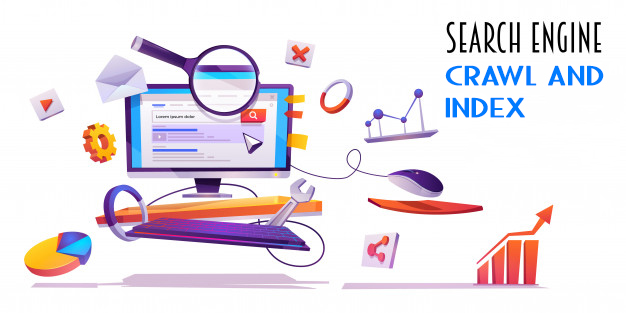 SEO industry often misunderstands that indexing and crawling are two different things.

Well, they say.

But the two still come hand in hand.
Crawling is a procedure by which Google bot views the overall content/code of the page and then analyzes it. On the other hand, indexing is the eligibility of a page to show up in Google's search result. Thus, the two are definitely not mutually inclusive.
For your site to appear in search results, your content needs to be visible. In simple words, if your site cannot be located, you'll never show up in the Search Engine Result Page.
How do Search Engine Work?
Search Engine work on the basis of primary functions:

Crawl: Crawling is looking over the internet content/code for each URL. It is actually a discovery process. Here, a team of robots called crawlers or spiders is sent by our search engines. They look for new and updated content. Content not only means writing, but it could also be a webpage, video, image, PDF, etc. Irrespective of the format used, the content is detected by links.
Google bot begins to find a few web pages and follows a link to those web pages so that it can discover new URLs.
Index: Now the second procedure is indexing. It's time to store and then organize the content that was discovered during the crawling. Once a page gets on the index, it will be in process to be displayed as a result.
Basically, an index is a huge database containing all the content that crawlers have discovered and are good enough for the searchers.
Rank: After the content has been discovered and stored, it's now time to give them a rank. Searchers are to be provided with the best piece of content to answer their queries. Here, the results are kept in order of the most relevant one.
Now, the procedure explains why your sites are not showing up in the search results.
First, your site can be new and thus hasn't been crawled yet.
Your page hasn't been linked to any kind of external websites.
Navigation of your site makes it difficult for crawlers to crawl effectively.
Your site might have some undesired code know as crawler directives. They might be blocking the search engines.
Lastly, Google might have penalized your site for spam tactics.
How To Get Crawl and Index To Your Benefit?
Keep posting on a regular basis and update your content regularly. Crawlers always look for the updated and fresh contents
Link your page to a maximum number of external websites possible
Do not post plagiarized and false content to lure easy traffic
Look if your sites have any crawler directives and try to remove it.
Conclusion
Crawling and Indexing are the two procedures followed by Google before your site gets a rank. For you to appear in a search engine, you should make the procedure of Crawl and Index easy.