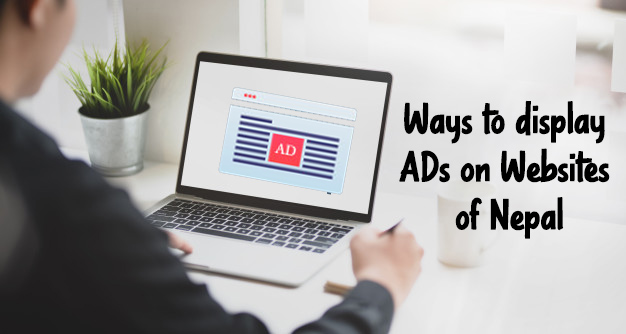 With the advent of the flourishing use of the internet, digitizing has been basic for the business. The advancement towards digital business is a game-changer for the marketing world. In recent years, even Nepali entrepreneurs have adopted the trend well. The promotion of brands on social media platforms is an ongoing trend. Still, the concept of formulating full-fledged marketing tactics through Google Ads is still a rare phenomenon. As an entrepreneur, are you familiar with different ways to display ads on websites of Nepal?
Placing a display add on your web page is how you make your very first dollar online. Every up and going website can sign up with a marketing network and begin to generate money for your business. Banner ads, also called as display ads are a cost-effective way for advertisers to display their service and products online across an array of websites.
There is a different way to display ads on a website. Let's try to list them out.
In the middle of content
Within the heading and the end
In the right or left sidebar
Pop-up ads
Wanna know about these in details? HERE WE GO
In the middle of the content
Research says that the ads within the content have a 44.66% response. This is the highest percentage of responses you can get while posting the banner ads. Well, it might be a little disturbing for the readers, but they don't wish to click off the ads, they can simply avoid it.
Within the heading and the end
The ads displayed over the heading have a 27.32% response. This is the highest response any ad can get without disturbing a reader. Ads below the fold get only 1.93% of the response. A number of ads can be displayed over the heading which can be of great efficiency to a business.
In the right and left sidebar
Banner ads on the left of the content have a 7.88% response while that on the right gets 9.28% response.
Pop-up ads
This is the latest trend in digital marketing. When any reader gets into your website, a big (usually full-screen) ad pop-ups. Such ads can be removed by clicking a 'cross' in the topmost section. Pop-up ads are noted to have a greater response. But if your website is a newly build one, such ads might have a negative effect on your viewers.
Tips to create the best banner ads
Use a strong heading
Creative copy like 'free' or 'sale'
Display important content and images
Limit one offer per ad
Use of animations and motion
Optimize file size
Run more than single ad per campaign
To sum up
There are multiple ways you can display ads on websites. As per your budget and needs, you can choose the most effective ones. Or, you can try new techniques such as ad pop-up ads. Either way, your intention to promote your brand is to be fulfilled. a digital marketing company in Nepal makes such action possible for you.