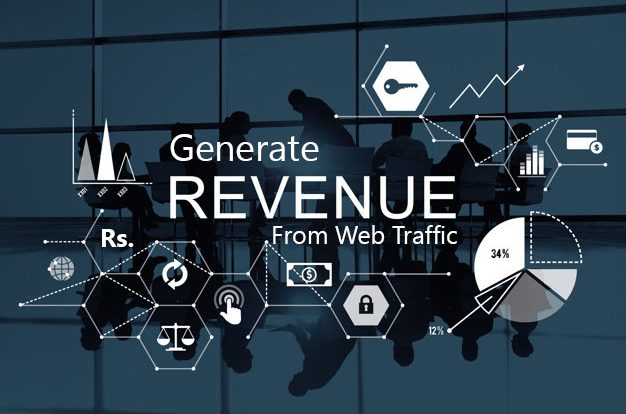 Operating a website to generate revenue from ad programs affiliates your business to grow. You are already aware of the Search Engine Optimization technique and per click advertising as well as other promotion techniques to improve your traffic. But getting traffic is not the ultimate goal, what happens to that traffic is. The goal is to convert them into paying customers.
If no one wishes to buy the product you are selling, your business won't get anywhere.
Conversion Rate
For Pay Per Click advertising, calculate your conversion rate percentage as the number of people visitors taking the desired action/number of visitors clicking your ad x 100.
For any online store merchants, the conversion rate percent is the number of orders divided by the number of visitors.
The higher the conversion rate, the greater is the number of customers you attract.
Here is how you can convert your web traffic into revenue:
Email Marketing
Once you get the traffic, it's important that you continually communicate with them. Recently, the best strategy to communicate with potential customers is to have a solid email marketing strategy. Send the sequence of personalized emails designed to engage customers with your brand. This will improve your sales opportunities in the future.
A/B Testing and CRO
Getting web-traffic is only half of the battle, converting them into customers is a whole new beast. For this, the techniques such as A/B testing ensure that you are making improvements to your campaigns and landing pages. The data from A/B tests will help your site optimization to positive outcomes.
Secondly, there is conversion rate optimization which includes a regular update to the UX, design, the content, or the overall workflow. These techniques can dramatically uplift your conversion results.
Quick Hacks for the Conversion
Offer different payment system that is suitable for all kinds of buyers. You can include a credit card, Visa Card, Paypal, or other systems that are useful in your region.
If you are going to ask for the visitor's personal information and account details, the most important thing is to make your site secure. And then the other thing to do is show them that the site is secured and their information is safe with you.
Offer a toll-free number and keep it in the way that customers can easily see them while they are on your page.
Make your customer service strong. Try communicating with your customers while they visit the sites. Reply to their queries and comments as quickly as possible. Keep them engaged until they exit from your site.
Give offers and discount for the promotion is always a great technique. This is never going to be old.
Always welcome the feedback of your customer – both positive and negative feedback. Having positive feedback is always good, but it's the negative ones that help you grow
Conclusion
It's not enough to get your site noticed and receive web-traffic. You need to provide visitors with the desired action when they arrive. Setting up tracking mechanisms and calculating your conversion rate is the initial step. Use them for conversion optimization and maximize your revenue from your site.